Author: Holly Ryan
Narrator: Melissa Schwairy
Length: 3 hours 23 minutes
Publisher: Holly Ryan⎮2018
Genre: Paranormal Romance
Series: The Slayer's Reverse Harem, Book 2
Release date: Oct. 23, 2018


Betraying him might save her life…but at risk of losing him forever.

Belle Harrison, vampire slayer, would give anything for a simple night of patrolling on her own damn terms. But the graveyard is crawling with creeps with hidden agendas. Not to mention the dark unknown that wants to take her out.

And we're not talking dates here, people.

Good thing Belle has three panty-melting vampires to help her.

Except one of her guys has a past that's catching up with him. Violently. Belle's fairly certain she can save him. But if she betrays him, she'll gain a wealth of knowledge that could help her survive the dark unknown.

A lot is at stake, including everything that makes her the slayer she is, and it just plain sucks.





Holly Ryan is a pen name for a USA Today bestselling author who one day said, "Screw it. I'm gonna write books with some serious sizzle." She's fueled by wine, which is where the idea probably came from.

Melissa Schwairy is a full-time narrator vocal age 20-30 living in Denver, Colorado. She has focused her acting career on narrating literature, completing titles in YA, Urban Fantasy, Murder Mysteries, and Romance. She has a BS in Counseling and Mental Health, and she is licensed in Healthcare Administration and Nursing. She loves to sing and dance in the car, and spend time with her family at home in beautiful Colorado.
Review
This book was provided to me by audiobook promotions in exchange for an honest review. This does not sway my opinion of this book at all. All opinions are my own as they always are when I do a review for somebody.
So this book picks up three days after the first one left off. If you have not read my first review of this book please go do so. I believe this book is better than the first one. This does not fall under second book syndrome at all. There is so much that happens in such a short amount of time. Again this book is about 3 1/2 hours long and I did speed it up so I believe it finished in about an hour and a half. Belle is just a fantastic character. All three of the vampires are amazing. The writing was personally I think with stepped up in this book. Which made the experience that much more immersive and make you what to keep reading.
Melissa Schwairy was just as excellent reading this book. Her pace didn't sway the way she said her words it was very clear and concise. You never had to struggle what she was saying even at a high speed that I was listening to it. I'm definitely going to have to check out more things that she has narrated for her because she really is just a joy to listen to.
The production quality for this book was absolutely fantastic. There were no awkward pauses there was no background noise. The team did a fantastic job to isolate Noises that were not the narrators. I would definitely recommend anybody picking up the audiobook because it is a great experience.

BOOK ONE
Dec. 9th:
Dec. 10th:
Dec. 11th:
Dec. 12th:
Dec. 13th:
Dec. 14th:
Dec. 15th:
BOOK TWO
Dec. 16th:
Dec. 17th:
Dec. 18th:
Dec. 19th:
Dec. 20th:
Dec. 21st:
Dec. 22nd: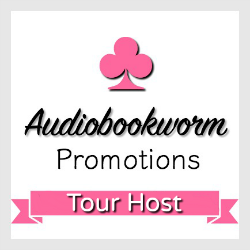 ➜Sign up as a host here
Thank you all for joining me here in our little part of wonderland. Please do not forget to feed the unicorn's on your way out as it is almost Christmas and they are giving away tons of wishes.
Until next time
Much love
Happy reading
Ashten