Hello, wonderlandians. Today I'm back with a bad boy biker book for you. Let me just get this out of the way this book had me feeling some type of way. Here we go.
Reaper's Legacy
Reaper's MC, Book 2
By: Joanna Wylde
Narrated by: Tatiana Sokolov, Todd Haberkorn
Series: Reaper's MC, Book 2
Length: 10 hrs and 39 mins
Unabridged Audiobook
Release date: 02-26-14
Language: English
Publisher: Tantor Audio
Eight years ago, Sophie gave her heart – and her virginity – to Zach Barrett on a night that couldn't have been less romantic or more embarrassing. Zach's stepbrother, a steely-muscled, tattooed biker named Ruger, caught them in the act, getting a peep show of Sophie he's never forgotten.
She may have lost her dignity that fateful night, but Sophie also gained something precious – her son Noah. Unfortunately, Zach's a deadbeat dad, leaving Ruger as Noah's only male role model. When he discovers Sophie and his nephew living in near poverty, Ruger takes matters into his own hands – with the help of the Reapers Motorcycle Club – to give them a better life.
Living with outlaw bikers wasn't Sophie's plan for her son, but Ruger isn't giving her a choice. He'll be there for Noah, whether she wants him or not. But Sophie does want him, has always wanted him. Now she'll learn that taking a biker to bed can get a girl dirty in every way…
Review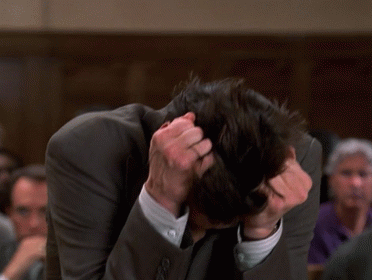 ——————————–> This is how I feel. The book started out great. Although with every second passing I was ready to well Jim Carey shows it best. I LOVED the first book. Though it was great concept for a biker book. Sophie though was so irritating. She was one of the judgmental characters. Just because she didn't understand their culture she has to looks down on all of them.. So irritating. I'm sorry let me start from the beginning. The book opens up with a prologue that I really enjoyed. It's a flashback scene that really hold a lot of context for things that happen later in the book. I like the fact that this book deals with a topic that is becoming more talked about into today's' society. It deals with domestic violence, leaving that situation, and surviving. In that regard it does a really good job about bringing up this issue.
Sophie's kind of brother in law Ruger is part of the Reapers MC. Now I can see why individuals would think a motorcycle club is a bad place to raise children. there are a lot of things that can go wrong with outlaws of society. I also happen to know that motorcycle clubs are all about Brotherhood or Sisterhood depending on what kind of Club it is. I personally know people who are in motorcycle clubs and they are the sweetest people I've ever met in my life. They also have children who are very well-adjusted human beings. I'm going on a tangent here I'm very sorry. Here though is what I don't understand Sophie is constantly saying how much Ruger is protective and he's always there for her and her son Noah. She knows he would never hurt them he is not his dumbass brother. I also understand that she doesn't want anything to happen between him and her because it goes sour then while she's going to be homeless and then no one's going to be without a father figure. Although Ruger would never let that happen.
Another bone I have to pick with our main character Sophie is that when it comes to the club women who are club members old ladies which by the way is a term of respect within that culture. We are all readers and I'm sure some of you or all of you have read at least one MC book. Now the old ladies of the club have their own colors and their own club vests. The club vests that they have say whoever therewith and to their property. to this club this is a sign of respect for these women. It shows that they belong to somebody in the club and nobody else can mess with them. It's a sign of respect. Sophie seems to think that all of these women have lost their mind because in her eyes these men own them. In a way that they do but these women also own their men. They are not pushovers they are very loud Independent strong-minded women. So when these women tell you what the club bass means just respect it. Really that's all that I ask. Now for me, the Saving Grace is Ruger I love him. With as much fighting and questioning that Sophie does especially when she's in his world, he puts up with a lot.
At the same time, Ruger is kind of a moron. He is telling the girl that he loves that he really does care about that he could never be a one woman man but kind of expecting her to be a one-man kind of a woman. The double standard really ticks me off. I understand that there are some men in the club like that they have their ladies but they also have your sweet butts on the side. He's known our main character for about 10 years so he should know what kind of a woman she is. One thing that I really love is that she does stand her ground on this fact. While I think she makes a lot of terrible decisions this is one where I can Champion her on wholeheartedly.
So for the story I' going to have to go with a rating of two and a half merunicorns. 
Now let's move on to my favorite part our very talented narrators. Tatiana Sokolov is very quickly becoming one of my favorite voice actresses. Her voice is so smooth when she reads you just can't help but stop and listen and give her your full attention. Her range of voices is impeccable. If you've never heard her read before she does a great male voice. I would have been happy if she had narrated the entire book but then we would have never heard the amazing Todd Haberkorn. I believe this is the first time that I'm hearing Todd voice act a book. He also had a great range of voice so I never got bored or thought that I was listening to the same character speak.
For narration I will give it a rating of four merunicorns. 
My overall thoughts are if you are a die-hard fan of this author I would recommend this book. If you are a fan of either of the narrator's I would definitely recommend this book. If you are just passing through This book May whether or not be for you who knows. if you guys are looking to get this on Audible and you have the Romance package then you can download it for I'm not going to say for you because you do pay for the package but you're able to download it. so I would have to say my final ranking for this book is going to be three merunicorns.
Is the symbol that you would check out?
Leave me a comment.
Thank you all for joining me here in our little part of Wonderland. Please do not forget to see the unicorns on your way out they may just give you a treat and we are in the time where wishes are being granted. No wish is too small for these unicorns.
Until next time
Much love & Happy Reading
Ashten