Hello, wonderlandians! Happy Thursday. I'm so tired and really wishing I was in New York at Bookcon. I have never been and really want to go sometime. Today's prompt goes to The Broke and the Bookish.
This one was hard for me to pick. If I had it may way I would have a bag like Mary Poppins or Merlin from The Sword and The Stone.  This way I can just have all of my book babies. Sadly, they are making me choose.
3 – The Secret Garden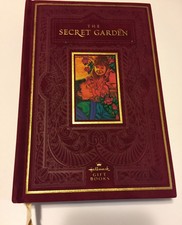 This is not my photos. Just to start off. I do own though. It is a 2001 hallmark special edition of The Secret Garden. The cover is velvet. My grandma gave me this book so it's special to me.
2 – Love you for ever
My great grandmother's, my mom, and my favorite book. So this I grew up reading this book. I have talked about it before.
1 – Vampire Academy
This one you should have just known was coming. Hello, it's me.
Thank you all for joining me here in our little part of wonderland. Please don't forget to feed the unicorns on your way out.
Until next time
Much love
Ashten